19
Solution for the definitive archiving of files and electronic documents.
Main functions
File Administration.
Administration of Users and Applications.
Administration of Documentary Series.
Metadata Administration.
File and Document Management in file phase.
Management of Conservation / Transfer Policies.
Searcher of files / documents.
Management of broadcast packages (DIPs).
Description
Web application for the definitive archiving of electronic files and documents, which complies with the regulations of the National Interoperability Scheme in the field of electronic Administration.
Archive provides the necessary tools for the creation by a super administrator of a management system and management of multiple departments Archive Center, as well as the integration in Archive of the corresponding consumer applications and the management of documents and electronic files sent by the same .
Use Cases:
Spanish public administrations.
Authors:
Responsible organization
General Secretariat of Digital Administration of the Ministry of Territorial Policy and Public Function.
Technical aspects:
To provide the service, (as of 2018):
MySQL.
Apache Linux.
J2EE application server.
Mail server.
Connectivity with signature services.
Connectivity with electronic stamp generation utilities services.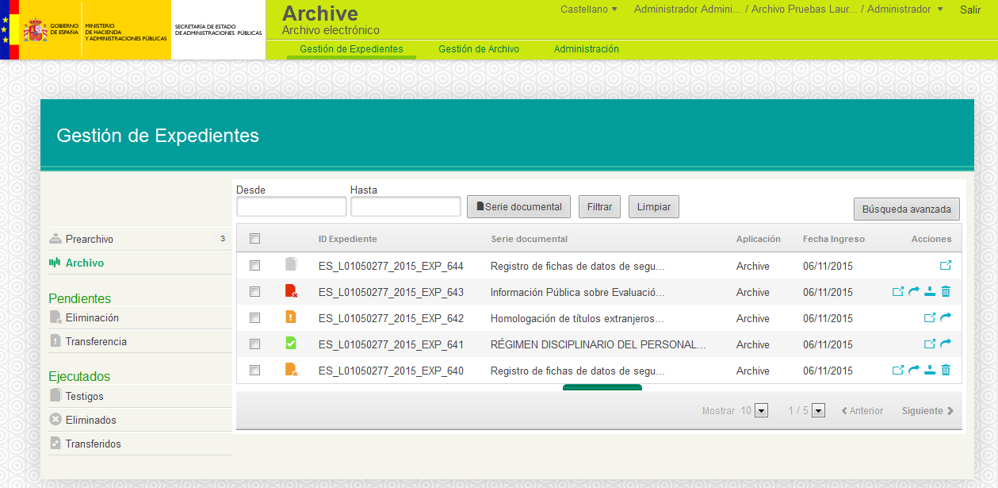 Knowledge areas
electronic government
Modernization of the State
Contribution of
Centro de Transferencia de Tecnología