Code4Dev Network
The Code4Dev Network was created to support developers who want to learn more about open source and the tools of our platform, Code for Development. On the network, developers have access to events, showcases, training workshops, consulting opportunities, and direct contact with the creators of the IDB's tools and experts.
AWARD
In addition to having the opportunity to meet, exchange knowledge about various open-source tools, and meet successful projects already implemented in governments, developers will have the chance to compete for a special prize.
Points will be counted between the period that begins on January 1st, 2022, at 00:00 AM Eastern Daylight Time ("EDT") and ends on December 31st,2022 at 23:59 PM EDT (the "Participation Period").  
Prize
One participant will be invited to:
A trip to participate in the Developer Week, February 15-23 of 2023, in San Francisco, CA – US, including payment of registration, air ticket, accommodation and per diem.
The IDB reserves the right to cancel the competition at any time or replace the award.
It is the responsibility of each selected participant to comply with the migration and health requirements to travel to the United States. IDB will not be able to provide support with U.S. visa procedures.
How to participate
Start collecting IDB Badges! By reusing the platform's tools, attending events and workshops, and engaging with us, you can start claiming and accumulating these Badges!
Activities and Score:
1. Reuse of any open-source tool from Code for Development's platform: +70
a. Testimonial about the process: +30
Reuse can be verified in a variety of ways, such as video of the final product, official published releases, or a verified referral from the tool's creator. To request a credential, please contact: code@iadb.org.
2. Participation in an event from the Code4Dev network: +10
All attendees of our events will receive the badge by email within one week. To request the badge, please contact: code@iadb.org.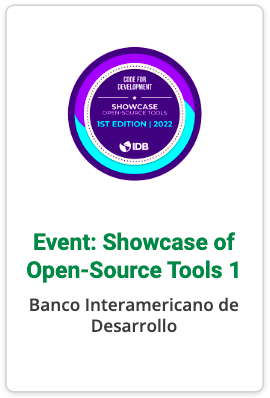 3. Participation in a workshop from the Code4Dev network: +20
Attendees (live or via our YouTube channel) who send the results of our workshop exercises to code@iadb.org will receive the badge by email within one week. To request the badge, please contact: code@iadb.org.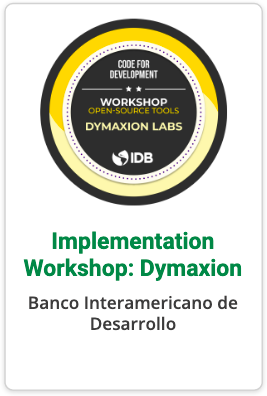 4. Join our slack channel: +15
Everyone registered in the Code4Dev network will receive the invitation by email. You can also request inclusion to our slack channel through code@iadb.org.
The developer who accumulates the most points during the period indicated in the terms and conditions will be the highlight of the network and will receive the award, which will be applied in 2023, or as indicated by the IDB, in accordance with the terms and conditions applicable to this contest.
Eligibility criteria
The winner must be registered at Code4Dev's network. Register here: https://code.iadb.org/en/code4dev.
The winner must work as a developer.
The career can be verified in a variety of ways, such as a diploma, a portfolio of projects on GitHub or professional references.
The winner must be over age in their origin country.
The winner must be a citizen of one of the IDB's 48 member countries: Argentina, Austria, Bahamas, Barbados, Belgium, Belize, Bolivia, Brazil, Canada, Chile, People's Republic of China, Colombia, Costa Rica, Croatia, Denmark, Dominican Republic, Ecuador, El Salvador, Finland, France, Germany, Guatemala, Guyana, Haiti, Honduras, Israel, Italy, Jamaica, Japan, Republic of Korea, Mexico, Netherlands, Nicaragua, Norway, Panama, Paraguay, Peru, Portugal, Slovenia, Spain, Suriname, Sweden, Switzerland, Trinidad and Tobago, United Kingdom, United States, Uruguay, and Venezuela. 
Staff, contractors, and vendors of the IDB Group and their immediate family members (spouse, parents and stepparents, siblings and stepsiblings, and children and stepchildren, aunt, uncle, niece and nephew) are not eligible to participate. Individuals that have been sanctioned by the IDB or that are ineligible to participate in IDB projects may not participate.
Participants agree to notify the IDB if their submission becomes ineligible at a later stage.
Start right now!
Stay tuned, visit our page and see the opportunities that await you.
Terms of use
Limitation of Liability
The IDB is not responsible for: (1) any false, incorrect or inaccurate information provided by the Participant; (2) technical or human error which may occur with the submissions; or (3) any injury or damage to persons or property which may be caused, directly or indirectly, in whole or in part, from an invidual's participation in the contest or receipt or use or misuse of any award.
Publicity and use of logo
Except where prohibited, by participating in the Contest the [winning Contestant/Contestants] agree[s] to license to the IDB, which can sublicense, the use of winner's name, likeness, photograph, voice, opinions and/or hometown and state for promotional purposes in any media, worldwide, without payment or consideration.
IDB reserves the right to search for publicly available information regarding Contestants.
Contestants may not use a corporate identity of the IDB (logo, name, symbols, etc.) without the IDB's written authorization.
No Recourse to Judicial Procedures
In the event that a Contestant should disagree with any of these Contest rules, or any decision made by the IDB, the Contestant will have the right to withdraw. To the extent permitted by law, the rights to litigate, to seek injunctive relief or to any other recourse to judicial procedure in case of disputes or claims resulting from or in connection with this Contest are hereby excluded, and the Contestants expressly waive any and all such rights.
Preservation of Immunities
Nothing herein shall constitute or be considered to be a limitation upon or a waiver of the privileges and immunities of the IDB which are specifically reserved.
Personal Data
Except as otherwise permitted in these terms and conditions, the use of the personal data submitted to the IDB will be treated as confidential and the IDB will apply the appropriate security measures to protect it against accidental or unauthorized destruction, loss, alteration, disclosure of, or access to.
Disqualification
If after announcing the winner, the IDB determines that a Contestant has misrepresented, misstated, or mischaracterized its Submission or its information in any way, the Submission is automatically disqualified from the Contest, and any privileges received by winning this contest shall be rescinded and cash prizes not awarded or forfeited. Any determinations made by the IDB in withdrawing and disqualifying any Submission will be final and confidential.
Participation in this contest is voluntary and free of charge, and is not subject, under any circumstances, to luck, payment of value and/or purchase of products or use of any good, right, or service by the participant.
By participating in this Cultural Contest of the Code4Dev Network, the user will automatically be agreeing to the terms of this regulation.