22
Modelo de evaluación de Reciclaje Inclusivo
Main functions
Survey to evaluate the Inclusive Recycling level
Comparative model of 12 cities from the region
Graphic visualizations of the results
Description
This digital tool is a spreadsheet used to evaluate and compare the Inclusive Recycling Model through different indicators. It contains data from 12 cities where the initiative is working: Asunción, Bogotá. Buenos Aires, Belize City, Mexico City, Lima, Montevideo, Quito, San José, San Pablo, Santa Cruz and Santiago de Chile, as well as a section to collect data from new cities and include them in the evaluation.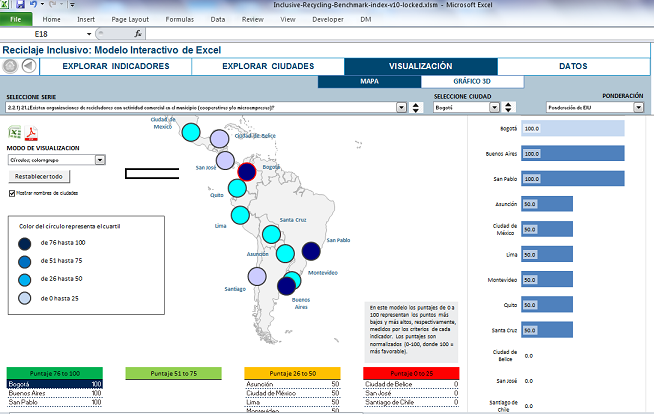 The Working Group of the Regional Initiative for Inclusive Recycling (IRR) has done a study and a comparative analysis evaluating the sector of inclusive recycling in 12 cities in Latin America and the Caribbean. The evaluation criterion consisted of analyzing and measuring qualitative and quantitative indicators through three main dimensions, including the legal aspects, organization and market dynamics. This system helps the actors in the sector to understand, measure and evaluate the institutional and operational environment of informal recycling in Latin America and the Caribbean.
With the support of this initiative, the perception of informal recyclers has improved dramatically in several countries. You can find out more about the Regional Inclusive Recycling Initiative at http://inclusiverecycling.com/.
Knowledge areas
Reciclaje
Políticas públicas
Salud
Inclusión